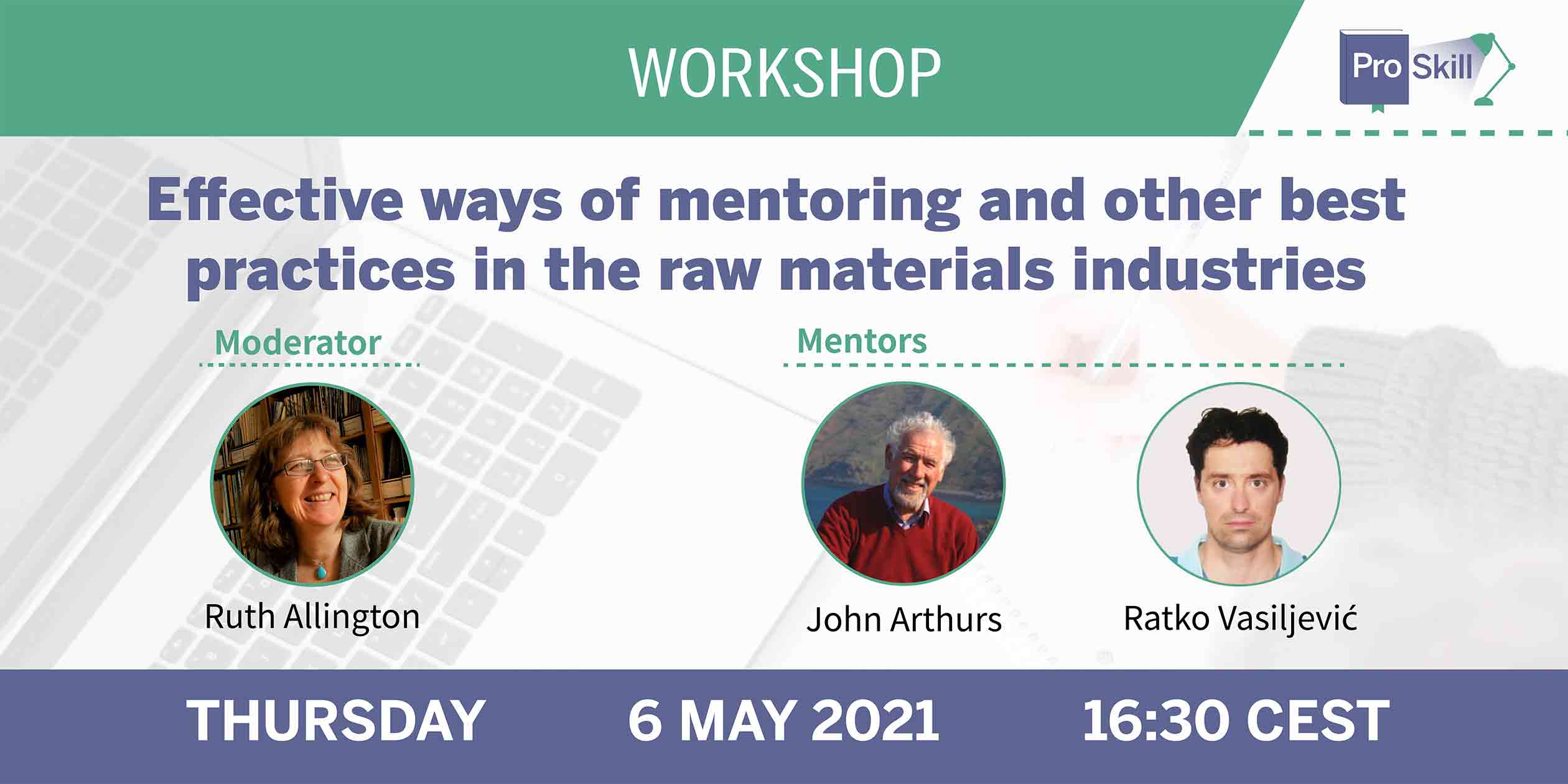 Join us on a fascinating workshop on mentoring in the field of raw materials.  The workshop 'Effective ways of mentoring and other best practices in the raw materials industries' will be on 6 May 2021, 16:30 – 18:00 CEST (Brussels time).
Engineering Geologist Ruth Allington will be moderating the session. Two longstanding mentors, John Arthurs and Ratko Vasiljević, have been invited to share their insights and best practices on mentoring. Following the mentors' presentations, a more interactive session will follow in which attendees will be able to participate more actively in the discussion of key topics and questions related to mentoring.
Are you interested in mentoring and would you like to know more? Are you already a mentor but would like to hear from experienced mentors in the raw materials industries?
Consult the agenda here.
Please register for the free workshop at this link.
– – – – – – – – – – – – – – – – – – – –
SPEAKERS' BIOGRAPHIES

Moderator:
Ruth Allington has almost 40 years of UK and international experience as a consultant specialising in the evaluation of resources and reserves of construction materials and industrial minerals and in the responsible design of quarries to recover them.  Since 2019, she has established a freelance business blending her technical expertise and experience with commercial and community mediation and facilitation, public speaking, mentoring, and training.  Ruth has found her 'soft' professional skills and experience she has acquired to be essential underpinning to her consultancy, business administration and voluntary governance activities. In addition to her technical and scientific qualifications, Ruth has an MBA, and is an accredited civil, commercial and community mediator.  She is very experienced in commercial and voluntary leadership roles and is passionate about the benefits of mentoring throughout professional careers, based on her experience both as a mentor and a mentee.  She is equally passionate about the training and support requirements for successful mentoring.
Invited mentors:
As a chartered geologist, John Arthurs specialises in mentoring, executive coaching and training to support vocational professionals, mainly geoscientists working internationally. In a career spanning 54 years John has travelled widely, often living in remote places and meeting people of different cultures. He has worked with mining and exploration companies, third level education and government geological surveys. Until official retirement in 2002, John was the Director of the Geological Survey of Northern Ireland. Since then he has operated as a consulting geologist.

Since 2018, Ratko Vasiljević has been a mentor of the European Federation of Geologists' Mentoring Programme. He has more than twenty years of work experience at the environmental protection company ECOINA (Croatia), where he has focused on soil, air, surface water and groundwater protection and remediation. Since 2014, Ratko works on the implementation of ISO 14065 standards for Greenhouse gases verification. He completed his PhD in the field of Geology and Geological Engineering at the Faculty of Mining, Geology and Petroleum Engineering of the University of Zagreb in 2012.